Fireplace X 3615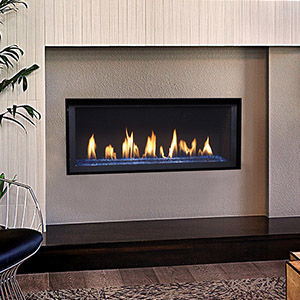 The 3615™ gas fireplace is the smallest model in the three-part Linear Gas Fireplace Series and is perfect for more intimate spaces, such as bedrooms, bathrooms and cozy dens. Like its larger counterparts, the 4415™ gas fireplace and 6015™ gas fireplace, this gas fireplace showcases a stunning fire view unlike anything else available. Its sleek, heavy gauge steel firebox displays tall, dynamic flames over a bed of reflective crushed glass which is illuminated by bottom-lit Accent Lights and accompanied by a unique fireback and optional interior fire art. The transitional architecture and design of the 3615™ gas fireplaceallows this model to complement both traditional and contemporary homes.
The 3615™ gas fireplace has a high heat output of 33,000 BTUs and has the ability to heat up to 1,700 square feet by utilizing two concealed 90 CFM blowers. It features high quality, ceramic glass that comes standard with the 2015 ANSI approved low visibility safety barrier, increasing the overall safety of this unit for you and your family. This gas fireplace also allows you to heat up to two other rooms in your home with the optional Power Heat Vent Kit. The new GreenSmart™ 2 Wall Mounted Remote is included with the 3615™ gas fireplace and allows you to control virtually every component of this fully-loaded unit. See the different in superior quality and performance with the 3615™ HO Linear Gas Fireplace.
Heating Capacity Up to 1,700 Sq. Feet
Steady State Efficiency (High) * Up to 75.22% (NG), 77.38% (LP)
BTU Range 18,331 to 33,000 (NG) - 17,555 to 33,000 (LP) BTU's / Hour
EnerGuide Efficiency Rating Up to 61.51% (NG), 63.62% (LP)
AFUE Up to 61.5% (NG), 62.1% (LP)
Fan Standard
Glass Area 34" W x 13" H
Venting Top Vent
Weight 210 Pounds
GreenSmart Remote Standard
Comfort Control No
* Your results may vary depending on your vent configuration.