Pellet Grills: Have They Finally "Come Of Age?"
I have to say that back in the late 1980s, we sold the first wood pellet grills here in Central Oregon. Those grills did not draw a lot of customer enthusiasm. Since then, we've sold other pellet grills from time to time.
To be honest, our experience with pellet grills has been mixed. On the plus side they do impart a nice smoke flavor to food that's slow cooked. On the minus side, not everyone has been happy with their required maintenance, short life spans, not searing steaks and being made in China.
Times are a changing. A pellet grill manufacturer has come out with a line of pellet grills that seems to have eliminated all the negatives plus added a number of extremely desirable features. That manufacturer is Hearthland, Memphis Wood Fired Grills. http://hearthlandproducts.com/products/grills And, they're making their award winning pellet grills right here in the US, not in China.
We've just evaluated their Memphis Pro™ model and are very impressed.
Here's what we found: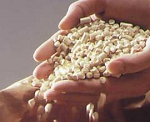 1. All Stainless: The pellet burning process is extremely hard on components. Memphis grills however, are made entirely of stainless steel. This eliminates the durability problems that the other pellet grill brands have.
2. Simple: The controls are simple and the design is "plug and play". Simply add pellets, press the on and prime buttons, set the temperature and leave. 10 minutes later the grill is at that temperature and ready to use. No gas grills and very few pellet grills can do this.
3. Real Bar-B-Que: Want to do real Bar-B-Que? Turn the grill on, set the temperature to 180F and come back in 10 minutes with the meat. Put the meat in and come back in 5 to 10 hours, depending on the type and size of meat being Bar-B-Qued. Then it will be slow cooked and smoke infused to perfection. Talk about perfect pulled pork! To equal this you would need to have big expensive commercial equipment, or an expensive Big Green Egg.
4. Convective Oven: The grill is also a dual fan, convective roasting oven with a double wall insulated hood. This allows you to do everything just like you would do with your kitchen while keeping the smoke and heat outside. Even a meat thermometer is included. Just set the temperature, drop in the roast, install the probe, close the hood and remove the roast when it is at the set temperature.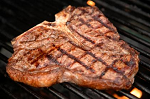 5. Sears Steaks: The grill gets up to 650F and at that temperature, unlike most
other pellet grills, it will nicely sear steaks and burgers.
The Bottom Line: The Memphis Grill by Hearthland seems to have more usable features than any other pellet grill and has eliminated all the historical pellet grill complaints. It does the job of a gas grill, a convective oven and an expensive Big Green Egg. Looks like we're becoming Memphis pellet grill lovers.
[feather_share]