Prosciutto-Wrapped Chicken with Fig-Balsamic Glaze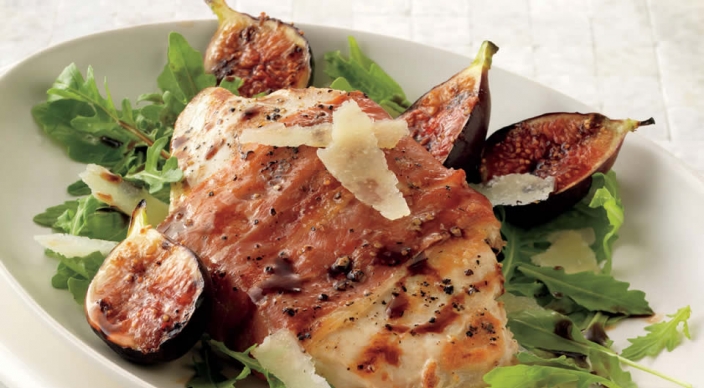 Wrapping anything in prosciutto will make it better. So the next time you go to grill up some chicken breasts - take it to the next level by wrapping it in prosciutto for a tender, moist, flavorful experience. Add a sweet, savory & slightly fruity flavor to the meal by topping it off with a fig-basalmic glaze. To complete the meal, serve on a bed of fresh arugula and enjoy!
INGREDIENTS
GLAZE
¼ cup balsamic vinegar
2 dried figs, finely chopped
2 tablespoons minced shallot
1 tablespoon honey
1 tablespoon fresh lemon juice
4 boneless, skinless chicken breast halves (without tenders), 4 to 6 ounces each
Kosher salt
Freshly ground black pepper
4 thin slices prosciutto
8 fresh figs, about 1¼ ounces each, stems removed, cut in half lengthwise
Extra-virgin olive oil
4 cups baby arugula
½ cup thinly shaved Parmigiano-Reggiano® cheese
INSTRUCTIONS
In a small saucepan over medium heat, combine the vinegar, dried figs, and shallot. Bring to a boil, reduce the heat to low, and simmer until almost all of the liquid has reduced to a thick, syrupy consistency, about 10 minutes. Remove from the heat and stir in the honey and lemon juice. Pour the glaze through a fine mesh strainer into a glass or stainless steel bowl, and discard the pulp. Set aside to cool.
One at a time, place each breast, smooth side down, between two sheets of plastic wrap and pound to an even ½-inch thickness. Season both sides of the chicken with salt and pepper. Wrap one piece of prosciutto around the center of each breast, pressing the loose ends of the prosciutto down so the meat stays together. Lightly brush the chicken on both sides and the cut sides of the figs with oil.
Prepare the grill for direct cooking over medium heat (350° to 450°F).
Brush the cooking grates clean. Grill the chicken, smooth (skin) side down first, over direct medium heat, with the lid closed as much as possible, until the meat is firm to the touch and opaque all the way to the center, 6 to 8 minutes, turning once or twice. At the same time, grill the figs over direct medium heat until well marked and heated through, about 4 minutes, turning once after 3 minutes.
Divide the arugula evenly among four plates. Place one chicken breast on each serving of arugula along with 4 fig halves. Drizzle the chicken and arugula with the glaze and top with the cheese.
Courtesy of: Weber
[feather_share]