Rib Eyes with Horseradish Butter and Dijon Sweet Potatoes
 Grilled to perfection! Rib eye is the richest, beefiest cut available and when grilled properly is flavorful, moist, and melts in your mouth. Top off your rib eye with a  fiery horseradish butter that cuts the richness of the steak and awakens your taste buds. Pair the savory steak with Dijon sweet potatoes to set this meal apart from any other typical meat and potato dish you've ever experienced before!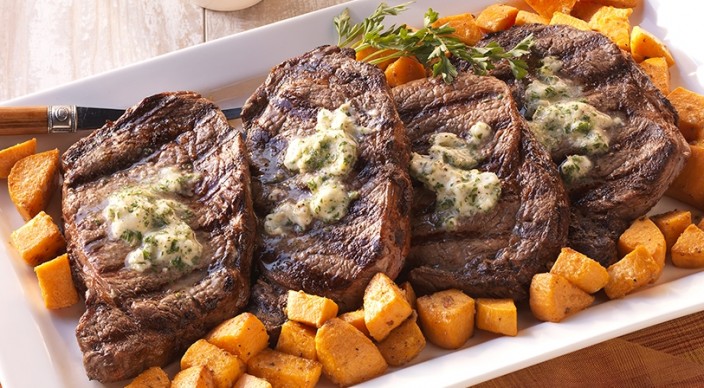 Serves: 4 // Prep time: 20 minutes | Grilling time: 36 to 43 minutes | Special equipment: perforated grill pan
INGREDIENTS
BUTTER
¼ cup (½ stick) unsalted butter, softened
1 tablespoon prepared horseradish
1 tablespoon minced fresh Italian parsley leaves
½ teaspoon finely grated lemon zest
DIJON SWEET POTATOES
Kosher salt
Freshly ground black pepper
¼ cup extra-virgin olive oil
4 teaspoons Dijon mustard
2 sweet potatoes, each about 1 pound, peeled
4 boneless rib eye steaks, each about 12 ounces and 1 inch thick, trimmed of excess fat
INSTRUCTIONS
In a medium bowl combine the butter ingredients, including ½ teaspoon salt and ½ teaspoon pepper, and mix well. Cover and refrigerate until needed.
Prepare the grill for indirect cooking over medium heat (350° to 450°F) and preheat a perforated grill pan for about 10 minutes.
In a large bowl whisk the oil, mustard, ½ teaspoon salt, and ¼ teaspoon pepper. Reserve 1 tablespoon of this mixture in a small bowl. Cut each sweet potato lengthwise into quarters, and then cut each quarter into ½-inch-thick slices. Add to the large bowl with the oil-mustard mixture and turn to coat.
Spread the sweet potatoes in a single layer on the grill pan and grill over indirect medium heat, with the lid closed, until tender, 30 to 35 minutes, turning occasionally. Put the potatoes back into the large bowl and toss with the reserved tablespoon oil-mustard mixture. Tent with foil to keep warm.
Season the steaks evenly on both sides with salt and pepper. Allow to stand at room temperature for 15 to 30 minutes before grilling.
Prepare the grill for direct cooking over medium-high heat (400° to 450°F).
Grill the steaks over direct medium-high heat, with the lid closed, until cooked to your desired doneness, 6 to 8 minutes for medium rare, turning once or twice. Remove from the grill, top with a spoonful of the horseradish butter, and let rest for 3 to 5 minutes. Serve warm with the Dijon sweet potatoes.
Recipe Courtesy: Weber
[feather_share]