Swimmingly Good News!
Fireside Introduces Aquatic Fitness Systems Exercise Spas
Swimming enthusiasts, take note: Fireside is introducing a brand-new line of exercise spas to its Bend, OR store.
Aquatic Fitness Systems exercise spas, from well-known hot tub maker Dimension One Spas, are designed in conjunction with one of the world's leading experts on water exercise.
Why a Swim Spa?
A swim spa (or more accurately an exercise spa) provides the convenience and privacy of swimming & water exercise at home. Swimming is unquestionably one of the best exercises – whether your goal is weight loss, low-impact therapy, or cardiovascular fitness.
Beyond swimming, these spas allow you exercise without the pressure of weight, meaning they're an excellent way for those with back pain or arthritis to stay fit. The spas' layout and accompanying equipment allow for a full range of aquatic exercises and water aerobics.
Deeper and longer than a regular at-home spa, a swim spa offers the convenience and privacy of a heated at-home pool –but with minimal space requirements, quicker installation, and much less demanding maintenance. And, when you purchase a swim spa from Bend Fireside, we will take care of everything from – delivery to installation.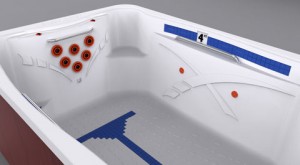 See the AquaSport
You'll be impressed when you view the floor model running at Fireside. Measuring 13 feet long by just over 7.5 feet wide, with a depth of just over 4 feet, its swim lane is the largest in its class. AquaSport's proportions allow for a full range of motion, just like a full-sized swimming pool. But unlike a swimming pool, AquaSport's space requirements are minimal, and it can be installed on a deck or patio, just like a traditional hot tub.
Learn More
To learn more about Aquatic Fitness Systems spas, or to request a promotional DVD, contact Fireside by email at info@bendfireside.com – or call us at 541-382-2597.
[feather_share]