How to Throw a Great Fall Gathering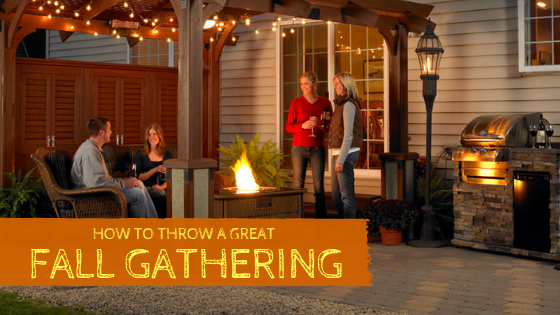 Beautiful weather, crisp air, and bright colors create the perfect setting for a fun backyard gathering. But what else do you need to throw a successful backyard bash? Whether you're hosting a game day celebration, relaxing family staycation, or friendly get-together, we've got plenty of tips and tricks to create a memorable outdoor gathering this fall!
Create a Fall Grilling Menu
From acorn squash and apples to cinnamon and cardamom, this season welcomes fresh produce and warm, fall spices. Incorporate those fall flavors into your party food menu and even your family meal planning! Delicious autumn recipes create a warm, memorable impression to start out the evening. But rather than cooking indoors while your family and friends are admiring the backyard, fire up your gas grill and entertain on your back deck or outdoor patio. Your grill can create the perfect sear on your meal, while the autumn aromas fill your outdoor living space. It's a win-win!
Start up your Fire Pit
Chilly fall weather is no match for the focal point of your backyard: a gas fire pit table. The dancing flames naturally draw guests outside to sit, relax, and catch up. With a wide variety of styles and sizes to choose from, you're sure to find the perfect fire pit to fit your outdoor decor and keep the celebration going. Many of innovative fire pit tables are made in the USA for quality you can trust in your outdoor living space. When not in use, place the burner cover on top for a functional, outdoor coffee table. Even on warm afternoons, your stylish fire table provides the perfect ambiance to set the scene for fall social gatherings.
Head into the Hot Tub
Take in the colorful landscape, spend time with friends and family, and let the therapeutic benefits of your hot tub do the rest. A hot tub provides the relaxation and mental health benefits found in nature, but in the comfort, convenience and privacy of your own backyard. But what is a good quality hot tub? Oregon made Marquis hot tubs offer creative and innovative designs that provide you the ultimate soaking experience, cost less to operate, and require the least amount of maintenance. Whether you want a place for the family to gather, a spot for friends to hangout or just want to cozy up to a loved one, Marquis has a variety of shapes and sizes to choose from. 
Ready to host the perfect fall celebration? Visit Fireside today to complete your outdoor gathering space.
Katie Oglesby, The Outdoor GreatRoom Company
[feather_share]