The Charcoal Grill with Versatility
Calling All Charcoal Grill Enthusiasts!
Have you have switched to gas out of convenience but miss the flavor of charcoal? Then we have the grill for you! The gas ignition of the Summit Charcoal grill from Weber makes it easy to enjoy the smoky, savory flavors of charcoal. In as little as 15-minutes and with a simple push of a button, your charcoal grill will be ready to go. And it doesn't stop there! The Summit Charcoal grill is a new take on the Kamando grill and has unlimited potential. So whether you want to sear, slow-cook, roast or bake, you can do it all under one lid. Check out how versatile the Summit Charcoal grill really is.
Get even more creative with the built-in gourmet BBQ system. With a variety of inserts, like a pizza stone, wok or griddle, you can grill anything from breakfast casseroles to gourmet pizzas.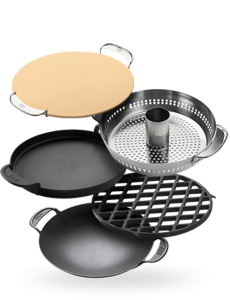 Explore endless grilling possibilities with the Summit Charcoal grill from Weber. In the Central Oregon area, you'll find the Summit Charcoal grill exclusively at Fireside. Stop by Fireside today to see the Summit Charcoal grill in person. We'll be happy to give you a tutorial and answer any of your questions. Happy Grilling!